we had some winners this week for sure. I could make a big post about everything that happened this week, but I went and hung with the girls today, and it is amazing how just sitting and talking with 20 women can wear you out! I am so tired, so here is a quick post
the Vegetable Upside Down Casserole..aka cake! LOL **has vegan options**
From The Vegetarian Family Cookbook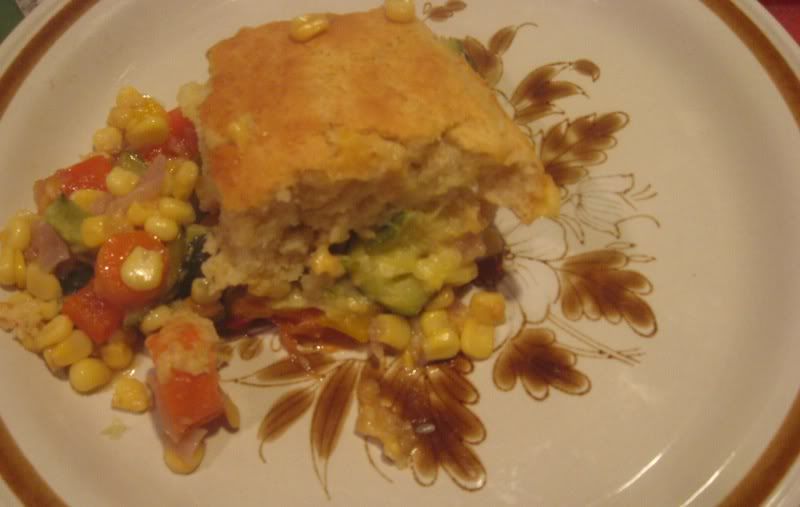 Vegetable Upside Down Casserole...aka CAKE for those that have picky kids! LOL
3-4 cups cut up vegetables of your choice ** see note below for what I did**
oil
1 cup whole wheat pastry flour
1/4 cup wheat germ
1/2 tsp baking powder
1/2 tsp baking soda
1 tsp salt
3/4 cup plain yogurt
3/4 cup milk of your choice
1 TBSP oil
1/2 cup grated cheese-optional
saute vegetables in oil until tender, set aside
preheat over to 375, lightly oil a baking dish
combine flour, wheat germ, baking powder, baking soda, and salt in a mixing bowl. make a well in the center and add the yogurt, milk and 1 TBSP oil. stir together until well blended
pour the vegetables into the prepared pan. sprinkle with cheese if using, then pour batter over the vegetables gently smoothing it out ** this was quite thick**
bake for 30-35 minutes or until top is golden brown and firm. let stand for about 10 minutes, then serve.
**we used:
red onions, garlic, red yellow and green pepper, yellow squash, zuchini, the green speckled squash, carrots, corn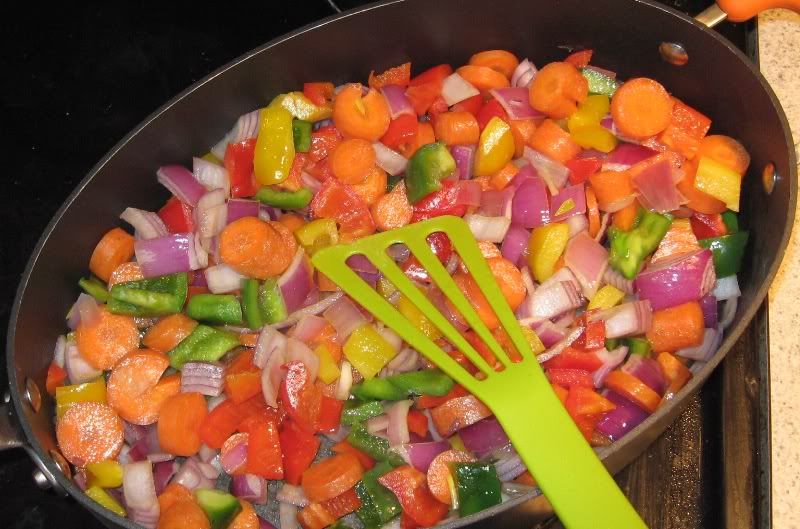 REVIEW:
OH.MY.GOSH this was heavenly! we made a double batch and it is almost gone. the kids loved it, shawn and I both said it was a keeper. the red onion was the perfect choice as it added a sweetness to the veggies. sauteing them first really helped to take away some of the sharp flavor in the peppers too. the blend of vegetables worked really well and we will definitely do it again. the "cake" was really good and harrison walked to everyones plates grabbing more of it! LOL
YUMMY!!!
and the other favorite:
Jamaican Rice and Peas (aka red beans and rice) *vegan**
Jamaican Rice and Peas (aka red beans and rice)
this is a quick way, you can of course make your beans from scratch and then use them!
2 cans small red beans
1 tbsp oil
1 onion, chopped
3 minced garlic cloves
3 cups cooked brown rice
1 15oz can coconut milk
1/2 tsp thyme
salt and pepper to taste

heat oil in a larger pot and saute' onion over med-low heat until translucent. add garlic and continue to saute until the onion is golden.

add rice, beans, coconut milk and thyme. bring to a simmer and reduce heat, covered. cook until most of the coconut milk is absorbed, usually around 15 minutes.

season with salt and pepper and serve.
ala...vegetarian family cookbook